10 Side Gigs You Can Do from Home
Alison Doyle
More than a third of U.S. workers have a side gig, according to a Zapier survey.
For some, that might mean commuting to a second job. But for others, working at a side gig just means logging a few extra hours on the computer or phone.
Why work from home? If you're working a day job, you may not want to head out again after work to pick up extra hours to supplement your paycheck. Or you may prefer to start a side business from home that has the potential to become your full-time job. In the gig economy, you might start out working as a freelancer and wind up with a brand-new career.
Here's how to find side gigs you can do from home.
How to Choose a Side Gig
Choosing a side gig is much like choosing a regular job. You're looking for work that sits at the intersection of your skills and preferences. However, side hustles present an extra consideration: time. Because you already have a full-time job, you'll need to take your schedule into account, as well.
Ask yourself these questions to find the best side gig for you:
What do I enjoy doing? For example, if you're a people person, sales or customer service roles might be a good fit. However, if you're an introvert, you might prefer a job that allows you to work independently.
What am I qualified to do? The best-paid side gigs require at least some level of experience, so you may need to upgrade your skills to get hired.
What are my time constraints? Some of the gigs below require a larger time commitment than others. Also, consider whether you'd prefer ongoing work or project-based gigs that let you work more as time allows.
Note
Consider your stress levels at your regular job. Avoid choosing side gigs that are likely to add to your mental load.
10 Side Gigs You Can Do from Home
1. Bookkeeping
Due to advances in accounting software, bookkeeping jobs are expected to decline over the next decade, according to the Bureau of Labor Statistics. However, just because fewer places hire full-time bookkeepers doesn't mean that people don't need them. Part-time, work-from-home bookkeepers can do well handling a small volume of work.
What You Need to Get Started: Most people that hire bookkeepers want to see that you understand numbers and have some experience. Having a math or accounting background and a college degree certainly helps. It is also a good idea to take some free classes on a leading accounting software package, such as QuickBooks or FreshBooks.
2. Digital Marketing
Most small and large businesses market their products and services online. Companies may hire freelancers to manage social media, online advertising, and website advertising.
Digital ad spending continues to exceed forecasts. That's good news for digital marketers, who may land lucrative freelance assignments. Within digital marketing, you can focus on paid media or owned media.
Paid media includes digital ads, such as Google AdWords, Facebook advertising, and LinkedIn advertising. Because creating the ad and targeting the right audience online can be complex, you will need to be trained in the appropriate media outlet before managing a company's paid digital advertising.
Website and social media management involve helping businesses manage their social media pages, as well as tracking their online traffic. Owned media management also incorporates search engine optimization best practices using blog content, backlinking techniques, and more.
What You Need to Get Started: You'll need a reliable computer with fast and dependable internet. You can enhance your chances of being hired by getting certifications from software companies like Google, Meta, HubSpot, Alison, Microsoft, or LinkedIn Learning. If you are helping a client with owned media, you will also need a basic understanding of search engine optimization obtainable through online courses from Semrush or Moz Academy.
Note: All of these online courses are free or low-cost and allow you to proceed at your own pace.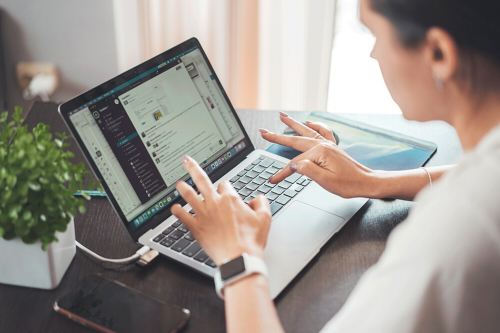 3. Teaching English Online
Parents from around the globe are looking for native English speakers to teach their children to read and speak English. This has created many opportunities for those who want to work online Teaching English as a Second Language (TESL).
What You Need to Get Started: Most TESL sites want you to have a college degree, and most of them require you to be a native resident of America, Canada, or England. Most TESL sites will train you in lesson planning, and you can become TESL certified.
4. Translation and Transcription
Do you speak more than one language? Demand for translators is soaring. You can choose from options like transcribing written words (from video and audio files) or translating website or app content.
If you prefer to speak rather than write, there are translation jobs that allow you to interpret. These voice translation jobs might require regular hours, so if you prefer this kind of side gig, you'll need to make sure that your gig doesn't conflict with your day job.
What You Need to Get Started: You need to be able to speak multiple languages in their vernacular, so that you can pick up on idioms and cultural references. Additionally, you will need strong writing skills.
5. Online Tutoring
If you are a teacher, a side gig to consider for weekends, summer vacation, and after-hours is online tutoring. But even non-teachers that love educating can do a great job tutoring on the side.
What You Need to Get Started: Tutoring sites will need to verify that you are qualified (have a college degree) and have a working computer with fast Internet. You can expect to do a lot of video conferencing with your students.
6. Content and Technical Writing and Editing
If you are skilled at written communication, you can make decent money as a writer. While some writing jobs (like journalism) are full-time jobs, there is a high demand for technical and content writers and editors – many of whom can work part-time.
Technical writers proofread or create instructions for products or software. You will need to be able to absorb vast amounts of information, complete research, and then be able to explain it all in simple language that non-technical readers can understand.
Content writers create content for websites, marketing pieces, and landing pages. If you enjoy working with websites (but lack the coding knowledge), you can build a portfolio and get paid to create content online.
What You Need to Get Started: You will need a portfolio to demonstrate your writing style and competence, or you may need to pass a writing or editing test.
7. Photo Editing
Photography is becoming more specialized and digital, and professional photo editing positions are available on many of the top freelance job sites. If you are an experienced photographer and enjoy cropping, fixing, and correcting photos, this is a great side gig for you.
What You Need to Get Started: You will need a portfolio to highlight your photo editing skills. You will also need a good computer and professional photo editing software, such as Adobe Photoshop/Lightroom. If you don't have much of a portfolio yet, reach out to a local professional photographer and offer them your editing skills at a low cost. Or you can set up an account on Fiverr for clients looking to hire low-cost freelancers with limited experience.
8. Website Development and Design
Both web developers and designers are needed for website creation and upgrades. Web developers are computer coders who know how to create websites using HTML, CSS, and JavaScript. If you are experienced in these coding languages, you could start out making good money for part-time work.
If you have experience with computers and site-building platforms like WordPress, you do not need to know computer coding to design websites. Web development and design are lucrative fields with a strong job outlook that – with patience and dedication – can grow into a full-time freelance business.
What You Need to Get Started: To explore work as a web developer, you don't need formal education, but you will need to demonstrate your coding skills with a portfolio of the sites you've built and maintained. Web designers also need a strong portfolio, though knowing coding languages is not required.
9. Website and App Testing
If you're short on professional skills but you know how to visit a website or use apps, you might enjoy testing websites for developers and media companies. Before developers launch a new website or app, or if a company wants to find bugs in a current website, they hire website testers to browse through the site, test some of the features, and report any usability issues.
What You Need to Get Started: You don't need much for this gig other than a decent computer, a smartphone for app testing, and Internet access. Web testers don't need much experience or education as they know (or learn) how to collaborate with the developers that hire them.
10. Software Development
Whether maintaining the backend functionality of a mobile device app or building software, software development is among the most in-demand skilled jobs. If you are experienced in UX design, Java, PHP, C#, or any of the other programming languages, there is high-paying work available for you to begin a career as a freelancer.
What You Need to Get Started: If you are looking for a gig in software development, you do not necessarily need a college degree. Instead, you can learn programming languages and build a portfolio for potential clients.
Note
If computer programming is your day job, you will need to make sure that your side gig does not violate the employment agreement that you have with your employer.
More Ways to Monetize Your Home Space
These are just some of the gigs that can be worked from home. There are many other ways to earn extra cash. Consider gigs, money-making apps, and on-demand jobs you can easily (and quickly) use to monetize your home space.
Whether it's becoming an Airbnb host, renting your garage on Garagetime, using your yard to host dogs on Sniffspot, becoming an eBay or Poshmark seller, or listing your pool on Swimply, for example, there are many other options for generating side income.