Home Is Where the Heartache Is
家是心头的痛
House prices in Sweden continue to soar, to regulators' despair
瑞典房价继续飙升,让监管部门感到绝望
Ask a central banker what regulators should do when rock-bottom rates cause house prices to soar, and the reply will almost always be "macropru". Raising rates to burst house-price bubbles is a bad idea, the logic runs, since the needs of the broader economy may not square with those of the property market. Instead, "macroprudential" measures, meaning restrictions on mortgage lending and borrowing, are seen as the answer. But this medicine is hard to administer, as Sweden's housing market vividly illustrates.
当跌至谷底的利率导致房价飙升时,若问某个央行行长监管机构该如何应对,得到的回答几乎总是"宏观审慎"。按照逻辑,提高利率来使房价泡沫破裂并不是一个好主意,因为更广泛的经济领域与房地产市场的需求可能并不一致。而"宏观审慎"措施,即限制抵押贷款和借款,被人们视为解决方案。但这副药并不容易下咽,瑞典的住房市场就生动地证明了这一点。
Swedish house prices have doubled in the past decade, their rapid ascent only briefly interrupted by the financial crisis (see chart). So far this year they have risen by about 14%. Apartment prices have been even giddier, rising by more than 150% in ten years.
过去十年中,瑞典的房价已翻了一番,其迅速攀升之势只被金融危机短暂中断。今年,房价已上升了14%左右。公寓的价格更是令人目眩,十年间上涨超过150%。
In part, this is a simple function of supply and demand. Stockholm is among Europe's fastest-growing cities, with the recent influx of Middle Eastern refugees only adding to the demand for housing. Last month the country's migration agency said it expected as many as 190,000 new arrivals by the end of the year, double its previous estimate. Sluggish and restrictive planning procedures limit supply: the current shortage of around 150,000 homes is expected to triple by 2025. A counterproductive rent-control regime has crimped the supply of flats in particular, and led to long waiting lists. Earlier this year an apartment in central Stockholm went to someone who had been in the queue since 1989.
在一定程度上,这是简单的供求关系在起作用。斯德哥尔摩是欧洲增长最快的城市之一,最近的中东难民潮愈发加大了对住房的需求。瑞典移民局上个月表示,到今年年底,预计新移民将高达19万,是之前估计的两倍。缓慢而约束繁多的规划程序限制了供应:目前住房缺口约为15万套,到2025年,这个数字预计将增加两倍。适得其反的租金控制制度尤其限制了公寓的供应,导致漫长的等待。今年早些时候,一位从1989年就开始排队等候的租客终于租到了斯德哥尔摩市中心的一套公寓。
Low interest rates have given Swedes the capacity to borrow more, pushing prices ever higher. The debt of the average household has reached 172% of income after tax. For people with mortgages in the big cities, the figure is nearly double that.
低利率让瑞典人能够承担更多的贷款,进一步推高了房价。普通家庭的负债已经达到税后收入的172%。对大城市的抵押贷款者来说,负债比率则几乎翻倍。
The most obvious way to calm things down is to raise rates. But the Riksbank, Sweden's central bank, tried that in 2010-11, with disastrous results. Unemployment stopped falling and inflation soon withered, stirring fears of deflation. That prompted the Riksbank to reverse course in late 2011 and start cutting rates again. The benchmark has ended up lower than it was to begin with, at -0.35%, increasing the sums flooding into housing. "It's like mopping whilst the tap is running at full flow," complains one official.
要给房价降温,最显而易见的方法就是提高利率。瑞典中央银行在2010年至2011年间曾试图这么做,但却招致了灾难性的结果。失业率停止下降,通胀很快减弱,引发了对通缩的担忧。这促使瑞典央行于2011年底调转了航向,开始再度降息。基准利率最后降至-0.35%,比开始时还低,更增加了涌入住房市场的资金。一位官员抱怨道:"这就像一边把水龙头开到最大,一边拖地。"
To try to stanch the flow, the Finansinspektionen (FI), the country's financial watchdog, has adopted curbs on both lending and borrowing. In 2013 it tightened capital requirements for mortgages, and since September it has required banks to hold an extra counter-cyclical capital buffer of 1% of all risk-weighted assets, to increase to 1.5% by next June. This will help if the property bubble bursts, but clearly has not been enough to stop it inflating.
为了遏制资金涌入,瑞典的金融监管机构金融监督管理局对贷款与借款都做出限制。2013年,它收紧了对抵押贷款的资本要求;今年9月起,它要求银行拿出所有风险加权资产的1%作为额外的逆周期资本缓冲,到明年6月,该比例将升至1.5%。如果房地产泡沫破裂,这些限制将有所帮助,但显然尚不足以阻止泡沫膨胀。
Caps on how much individuals can borrow, in the form of maximum loan-to-value (LTV) and debt-to-income ratios, are another option. A recent IMF study found that in more than half of countries where this has been tried, credit growth and asset-price inflation fell. In 2010 the Riksbank embraced this policy, requiring a deposit of at least 15% for new mortgages.
用设立最高贷款价值比与负债收入比的形式,对个人贷款金额设定上限,是另一种选择。国际货币基金组织最近的一项研究发现,在尝试这种方法的国家里,超过半数国家的信贷增长和资产价格上涨均已下降。2010年,瑞典央行采取了这一政策,要求新抵押贷款至少要有15%的首付。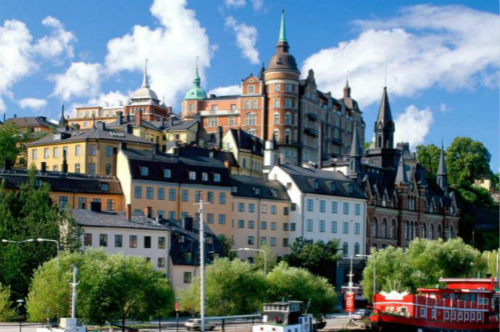 The authorities have also tried to restrict the use of interest-only mortgages, which are common in Sweden. If borrowers use these to protect themselves from temporary financial problems while still paying down their debt, they can be helpful. But if they take out interest-only loans simply to borrow more, they exacerbate the bubble. Almost 40% of Swedish mortgages by value are not being paid down at all, and for many of the remainder the pace of repayments is slow. The FI has been trying to push banks and borrowers to agree voluntary repayment plans. It suggested that those with LTVs above 70% pay down at least 2% a year, and those with LTVs of 50-70% pay 1% a year. But in April a court quashed such efforts, arguing the FI had no authority to promote such plans.
当局也试图限制只付利息抵押贷款的运用,这类贷款在瑞典很常见。如果借款人用这种方法来保护自己免受暂时性财务问题的困扰,同时仍在偿还债务,这类贷款会有帮助。但是,如果他们办理这类贷款只是为了借更多的钱,就会吹大泡沫。瑞典抵押贷款总额的近四成完全没有偿还,而剩余的部分中很多贷款的还款速度都非常缓慢。FI已努力促使银行和借款人达成自愿还款计划。FI建议LTV在70%以上的借款人每年至少偿还2%,而LTV在50%和70%之间的人每年偿还1%。但在4月,法院否决了这种努力,认为FI没有权力推动这样的计划。
In any case, the allure of cheap loans is so great that households in Sweden and beyond will find ways around the restrictions that remain in place. When the Slovakian government put limits on housing loans, banks boosted other forms of lending to bridge the gap. In Sweden, so-called "blanco-loans", more expensive unsecured loans, can be used for that purpose. All told, credit is still growing and asset prices climbing, despite regulators' efforts.
无论如何,廉价贷款的吸引力非常大,瑞典和其他国家的家庭会找到各种办法绕过已有限制。斯洛伐克政府限制房贷时,银行用其他的贷款类型来填补缺口。在瑞典,所谓的"无指定用途贷款",即一种更昂贵的无抵押贷款,可用于这一目的。尽管监管部门有种种措施,但是总体而言,信贷仍在增长,资产价格仍在攀升。
A better solution might be to eliminate the tax code's various incentives for home ownership. Property taxes were abolished in Sweden in 2008; up to 30% of mortgage interest can be deducted from personal tax bills and a rebate of up to 50% can be claimed on home extensions and repairs. The Riksbank thinks that abolishing mortgage-interest relief alone could cut aggregate debt as a share of income by more than 50 percentage points over the next 50 years. Reducing the maximum LTV ratio to 80% would only trim debt-to-income ratios by five percentage points; the FI's repayment scheme would cut them by 12.
更好的解决方案可能是取消税法中对置业的各种激励措施。瑞典于2008年废除了财产税;高达30%的按揭利息可从个人所得税中扣除,而住宅扩建和维修最高可获50%的退税。瑞典央行认为,未来50年里,仅取消按揭利息抵税一项就可以让总债务占收入的比例减少超过50个百分点。把最高LTV降至80%只能让债务收入比削减5个百分点,而FI的还款计划能削减12个百分点。
The tax code is in the hands of politicians, as are the planning and rent-control regimes that impede the construction of new homes. An independent commission last year recommended urgent reforms to all three, but has been ignored. Politicians at least seem to be warming to the idea of cutting mortgage-interest relief, partly because they are looking for money to pay for the influx of refugees. But for the most part, measures to slow the property boom seem politically unpalatable. "People feel rich today thanks to these crazy prices," says one member of parliament. "Nobody wants to be the one who breaks the spell."
税法由政客把持,阻碍新住房建设的规划和租金控制机制也一样。去年,一个独立的委员会建议对这三项都进行紧急改革,但一直被忽视。至少,政客们现在似乎开始对削减按揭利息抵税的主意感兴趣了,部分原因是他们正在筹钱以支付难民大量涌入的费用。但在大多数情况下,拖慢房地产发展的措施似乎在政治上难被接受。一位国会议员表示:"由于疯狂的房价,人们如今感到富足。没有人愿意成为打破魔咒的人。"
Politicians and regulators also know that any measure that obliges Swedes to spend more of their income on deposits or mortgage payments would be a drag on consumption, and thus a blow to an already fragile economy. "Ideally, I'd like to have something in my toolkit with which I could influence the housing market and nothing else," says Henrik Braconier of the FI, "but up to now I have not found it."
政客和监管者也知道,任何迫使瑞典人把更多收入用于储蓄或按揭还款的措施都会拖累消费,从而打击业已脆弱的经济。FI的亨利克·巴拉肯尼亚表示:"最理想的是,我希望我的工具箱里有一样能够影响住房市场而不涉及其他领域的东西,但到目前为止我还没有找到它。"
下载:中文、英文版本