How 4 Successful Female Entrepreneurs Got Their Starts
Elicia Putnam
These female entrepreneurs started small, but built huge businesses with their hard work and ingenuity.
Many of us have big dreams about running a multimillion-dollar company. But getting there requires taking small, patient steps.
Below are the stories – and lessons learned – of women entrepreneurs who paid attention to the littlest details, paving the way to massive successes.
Their Stories
Work Hard for Every Customer
Pay Attention to Your System
Be Savvy with Every Dollar
Find the Potential in Every Conversation
WORK HARD FOR EVERY CUSTOMER
Most of us are familiar with Angie's List, the trusted online resource for households around the nation. But the beginnings of the company were painfully humble.
In 1995, recent college graduate Angie Hicks partnered with Bill Oesterle on an idea about a company that would pair customers seeking household services with recommended vendors.
Hicks went door to door to sign up members one at a time. She persevered through long days and slammed doors. In spite of frequent doubts, she slowly built the list to 1,500 members. At that magic moment, she and Oesterle decided they were onto something, and the rest, as they say, is history.
Oesterle has since stepped down from his role as CEO, but Angie's List is still thriving. Last year, the company reported $736.4 million in revenue.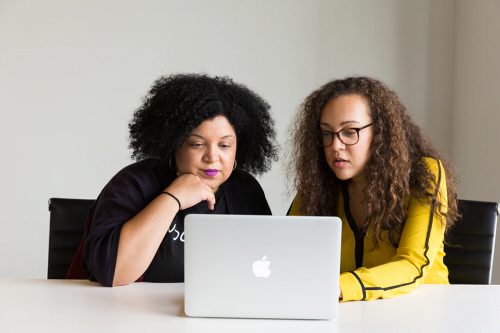 PAY ATTENTION TO YOUR SYSTEM
Katrina Lake is the founder of Stitch Fix, an online company that hit $316 million in sales for the quarter ending April 28, 2018.
When Lake was attending Harvard Business School, she was in search of a winning business idea. She thought about pain points in her own life and realized that busy women had few options for personalized shopping that weren't ridiculously expensive.
Lake had always been good at picking out clothes for friends. She realized that if she could track their style preferences, she'd be on her way to creating something big. Using online survey forms and Excel spreadsheets, Lake gathered data about what her friends liked and what they didn't like so that each shopping trip, she had better odds of picking out exactly what they wanted.
Today Lake's scrappy system has evolved into a highly complex algorithm overseen by a team of 80 data scientists that can pinpoint the style preferences of millions of customers with incredible accuracy. Through dogged persistence, Lake focused exclusively on one system and has reaped the benefits many times over.
BE SAVVY WITH EVERY DOLLAR
Marie Forleo is a household name for women entrepreneurs. Her digital empire, which specializes in inspirational content, makes tens of millions of dollars, and she considers Tony Robbins, Richard Branson and Oprah good friends.
Things weren't always so glamorous for Marie. She bartended her way through college, taught fitness classes and offered coaching services on an individual basis.
She had a glimmer of an idea for her future company, but she wasn't sure. To give herself time, she took the pressure off by continuing to support herself through outside jobs.
"(A key) for me was not expecting my baby business to pay the bills, not being in a race, being patient and being willing to be small and scrappy," Marie shared.
In fact, it took Marie seven years before her business actually earned her enough money for her to quit her freelance work. But her jet-setting ways of today came about through very diligent decisions.
FIND THE POTENTIAL IN EVERY CONVERSATION
Sara Blakely embodies the word "tenacious." Equipped with a single idea and $5,000, she launched Spanx, a company that pioneered a mish-mash between a girdle and pantyhose, which wound up making her a billionaire.
In the early years of her company, Blakely landed a pivotal meeting with a Neiman Marcus buyer. When the conversation got off to a rocky start, Blakely realized that convincing the buyer would require more than talking. She needed to show what her product could do.
Blakely begged the buyer to meet her in the bathroom. The buyer relented, and Blakely literally demonstrated what her rear end looked like before putting on the Spanx and what it looked like afterward.
The buyer saw the visible results and was sold. Spanx was picked up at seven Neiman Marcus stores, and Blakely's rocket ship took off – all because she refused to give up on a single conversation.
If you've got a big idea that's ready to blast off, don't forget the importance of thinking very, very small. Before you know it – baby step by baby step – you'll be on the path to building the business of your dreams.