10 Solutions to Poverty
解决贫困的十种方案
To many, the idea of finding solutions to poverty is a big and seemingly impossible undertaking, considering that 1.4 billion people in developing countries live on less than $1.25 a day. Another 842 million people, or one in eight people, do not have enough to eat, today. Almost two billion people lack access to clean water and 22,000 children die each day due to conditions of poverty.
发展中国家有14亿人每天的生活费用不足1.25美元,鉴于此,对许多人来说,寻求脱贫之法是一项似乎难以完成的艰巨任务。另有8.42亿人,即1/8的世界人口,没有充足的食物。由于贫困,近20亿人无法获取洁净水,每天有2.2万儿童夭折。
These kinds of statistics are discouraging.
这些统计数据令人沮丧不已。
The good news is that there are solutions to poverty, they can happen, and poverty can be radically reduced, if not completely eradicated.
令人欣慰的是,现在有了解决贫困问题的办法,而且能付诸实施。即使不能完全消除贫困,也能大大减少贫困。
1. Creating good jobs
1. 创造良好就业机会
Creating jobs is a great way to reduce poverty. When people have jobs, they have income, and when people have income, they can more easily get themselves out of poverty. The U.N. says that "unemployment and underemployment lies at the core of poverty. For the poor, labor is often the only asset they can use to improve their well-being."
创造就业机会是减少贫困的有效途径。有工作,就有收入,有收入,脱贫就不再是难事。联合国认为,"失业和就业不充分是贫困的核心所在。对穷人来说,劳动力往往是他们可以用来提升幸福感的唯一资产"。
2. Educating women
2. 女性教育
The education of girls and women impacts the rest of the societies in which these girls and women live. A woman's degree of education is linked to the age at which she marries and has children, to her health and diseases, to her economic opportunities, to her social standing, and to her general future well-being.
女孩和妇女的教育影响到她们所处社会的其他方面。妇女的教育程度与婚育年龄、健康与疾病、经济机会、社会地位以及未来的总体幸福感有关。
3. Raising wages
3. 提高薪资水平
"A full-time worker with two children earning the minimum wage will still raise his or her family in poverty." And this is an issue in almost every other country, especially in developing nations. Raising the minimum wages could potentially increase the health and well-being of millions.
"一个领取最低工资的全职工人,如果养育两个孩子, 全家仍会生活在贫困之中。"几乎所有国家,尤其是发展中国家都存在这一问题。提高最低工资标准有望提高数百万人的健康水平和福祉。
4. Microfinancing
4. 小额信贷
Microfinance is defined as the "supply of loans, savings, and other basic financial services to the poor." Right now, only about 10 percent of the global population has access to traditional banking, according to the Gates Foundation. However, using microfinance, people who are unemployed or who have a low income could get small loans to help them become self-sufficient. An organization called Kiva has provided more than $329 million to 786,000 borrowers, with a repayment rate of 98.97%. Microfinance is a promising way to alleviate poverty.
小额信贷是指"向穷人提供贷款、储蓄和其他基本金融服务"。盖茨基金会的数据显示,目前,全球仅有大约10%的人口能够使用传统银行业务。然而,小额信贷可使失业者或者低收入者获得小额贷款,实现自给自足。一个名为"基瓦"的组织已经向78.6万借款人提供了超过3.29亿美元的贷款,还款率为98.97%。由此可见,小额信贷是一条前景可期的扶贫路径。
5. Gender equality
5. 性别平等
As the U.N. Development Programme says, "when women have equal access to education, and go on to participate fully in business and economic decision-making, they are a key driving force against poverty." Not only this, but better gender equality raises household incomes and "translates into better prospects and greater well-being of children," which is a smart way to reduce the poverty for future generations as well as our own.
如联合国开发计划署所言,"妇女享有平等的教育机会,进而全面参与商业和经济决策,就会成为脱贫的核心驱动力"。不仅如此,性别更平等,可以提高家庭收入,"给孩子造就更好的未来,带来更大的福祉"。性别平等是减贫的智慧之举,不仅利在当代,也利在后代。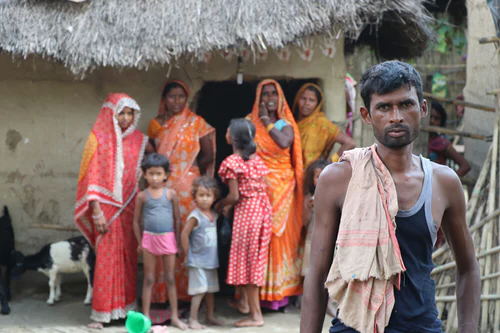 6. Transparency in government spending
6. 政府支出透明
Creating transparency in government spending of money can help reduce corruption in governments. When governments are accountable to their citizens for their action, or inaction, in different areas of the federal budget, the citizens will be able to accurately assess how well their leaders are leading their country. Also, it allows citizens to see if money is being taken away from poverty-reduction plans and into the pockets of their leaders, which could be a cause of a stagnant economy or job market.
提高政府资金支出的透明度有助于减少政府的腐败行为。如果政府就联邦预算不同领域的作为或不作为向公民负责,那么公民就能对其领导人的领导力准确评估。此外,提高政府开支的透明度,公民也能了解政府资金是否从扶贫计划向领导人的口袋转移。中饱私囊也许是经济或就业市场停滞的一个原因。
7. Canceling national debts
7. 取消国债
As mentioned by Share the World's Resources, "It is internationally recognized that the debt burden of the world's poorest, most indebted countries has to be tackled if they are to set themselves on a path of sustainable growth, development, and poverty reduction." This is why the International Monetary Fund and the World Bank have created the Initiative for Heavily Indebted Poor Countries (HIPCs). The initiative helps with the debt relief to currently 23 poor countries (mostly in Africa) that are committed to eradicating poverty. There have been successes in a few countries thus far, and this initiative can help governments "get back on their feet" so that they can focus on developing for the future instead of trying to pay back what was spent in the past.
如《分享世界资源》所述:"国际上普遍认为,世界上最贫穷、负债最多的国家要走上可持续增长、发展和减贫之路,就必须解决好债务负担问题。"这也是国际货币基金组织和世界银行共同发起"重债穷国计划"的缘起。该计划帮助减轻志在脱贫的23个贫穷国家(主要在非洲)的债务。迄今为止, 一些国家已经取得了成功。这个计划有助于穷国政府"重新振作",以便集中精力为未来谋求发展,而不是想着用新钱还旧账。
8. Access to healthcare
8. 医疗保健可及
The President of the World Bank, Jim Yong Kim, says that he believes "universal health insurance coverage in all countries can help achieve a goal of ending extreme poverty by 2030." He says that because about 100 million people are pushed into extreme poverty every year by having to spend money on health issues, and that because health issues push about another 150 million into severe financial hardship, universal health insurance could greatly relieve poverty, globally.
世界银行前行长金墉说,他相信"所有国家的全民健康保险体制有助于达成2030年消除极端贫困的目标"。他说,每年约有1亿人因不得不花钱治病而陷入极端贫困,还有约1.5亿人因治病而生活窘迫,全民健康保险体制则可以在全球极大缓解此类问题引起的贫困。
9. Access to clean water and sanitation
9. 洁净水和卫生条件可及
The World Bank says that access to clean water and sanitation is "one of the most cost-effective development interventions, and is critical for reducing poverty." The reasons for this are that women can use the time that they would have spent fetching water to work and produce more, agricultural production could increase, and the costs of services and goods could go down. Not only that, but because diseases caused by unsafe drinking water and poor sanitation cause "the most significant child health problems worldwide," having access to clean water could significantly lower the healthcare burden for many children.
世界银行认为,洁净水和卫生条件可及是"最具成本效益的发展性干预措施之一,对减少贫困至关重要"。其原因是,妇女不用费时取水,会有更多时间去从事劳动和生产活动,使农业产量提高、服务和商品成本降低。不仅如此,饮用水不安全和卫生条件差引发的疾病造成"全世界最严重的儿童健康问题",能够喝上洁净水可大大减轻许多儿童的医疗保健负担。
10. Nutrition, especially in infants
10. 保证营养,尤其是婴儿的营养
Adequate nutrition is an incredibly important indicator of a person's ability to get out of poverty, later in life. Those who are malnourished from the time of conception to 24 months postpartum "have a higher risk of lifelong physical and mental disability." Because of this, they are "often trapped in poverty," and are not able to make the full contribution to the "social and economic development of their households and communities, as adults."
营养是否充足是衡量一个人未来脱贫能力的极其重要的指标。从母亲怀孕到产后24个月营养不良,则"终生身心残疾的风险较高"。因此,这样的人"经常会陷入贫困",而且"成年后"也无法为"家庭和社区的经济社会发展"贡献出全部力量。
(译者单位:广东外语外贸大学高级翻译学院)